FILM HOME PAGE
Films between 1919 & 1939
Films between 1940 & 1949
Films between 1950 & 1959
Films between 1960 & 1969
Films between 1970 & 1979
Films between 1980 & 1984
Films between 1985 & 1989
Films in 1990
Films in 1991
Films in 1992
Films in 1993
Films in 1994
Films in 1995
Films in 1996
Films in 1997
Films in 1998
Films in 1999
Films in 2000
Films in 2001
IMPORTANT & NOTEWORTHY FILMS
FEATURING ASIAN PACIFIC AMERICANS

Films in 1993 (Part 2)
Click HERE for Part 1 and HERE for Part 3


(1993)
Directed by David Cronenberg
Cast: Jeremy Irons, John Lone, Barbara Sukowa, Ian Richardson, Annabel Leventon, Shizuko Hoshi, Richard McMillan, Vernon Dobtcheff, David Hemblen, Damir Andrei, Antony Parr, Margaret Ma, Tristram Jellinek, Philip McGough, David Neal, Sean Hewitt, Peter Messaline, Michael Mehlmann, Barbara Chilcott, George Jonas, Carl Zvonkin, Viktor Fülöp, Cadman Chui, María Teresa Uribe, Harriet Chung, Monica Gan, Ayumi Komoda, Tammy Lok, Tracey Oh, Carly Wong

David Henry Hwang's 1988 Broadway play about European misrecognition of Asia was justly rewarded with several Tony Awards. A French diplomat falls in love with a Chinese opera star, whom he believes to be the "lotus blossom" of his dreams--only to learn that "she" is a man. However, when the time came to turn the play into a film, the material was handed over to a director with no appreciation for the playwright's critique of East-West relations.
Horror-movie maestro Cronenberg ("The Fly," "Naked Lunch") miscast the part of Chinese transvestite Song Liling with the masculine John Lone, who (unlike B.D. Wong, who won a Tony for the role on stage) could never convince an audience that he was a woman. Then, the director took out Song's defiant speech to the French court ("And being an Oriental, I could never be completely a man") and made him a passive whimp. This film does a severe injustice to the play. Rather than renting the movie, try to catch a stage production. Or else rent "Golden Gate" (see below). (Warner Home Video)

THE JOY LUCK CLUB

(1993)
Directed by Wayne Wang
Cast: Kieu Chinh, Tsai Chin, France Nuyen, Lisa Lu, Ming-Na Wen, Tamlyn Tomita, Lauren Tom, Rosalind Chao, Melanie Chang, Victor Wong, Lisa Connolly, Vu Mai, Ying Wu, Mei Juan Xi, Guo-Rong Chin, Hsu Ying Li, Irene Ng, Qugen Cao, Anie Wang, Yan Lu, Boffeng Liang, William Gong, Diana C. Weng, Yuan-Ho C. Koo, Zhi Xiang Xia, Dan Yi, Christopher Rich, Nicholas Guest, Kim Chew, Jason Yee, Ya Shan Wu, Samantha Haw, Feihong Yu, Russell Wong, Grace Chang, Michael Paul Chan, Philip Moon, Melissa Tan, Yi Ding, Emmy Yu, Vivian Wu, Lucille Soong, You Ming Chong, Fen Tian, Lena Zhou, Jeanie Lee Wu, Andrew McCarthy, Jack Ford, Diane Baker, Tian-Ming Wu, Elizabeth Sung, Eva Shen, Sheng Yu Ma, Sheng Wei Ma, Chao Li Chi
Lo and Behold - Wayne Wang's work when he has a Hollywood-size budget and two continents to work with. This movie, just as the Amy Tan novel that the movie is based on slowly won over the literary world, this deeply moving story of eight Asian American women was the surprise sleeper hit of the year.
Janet Yang produced this film--arguably the first Asian American Hollywood movie of the sound era. Though the portrayals of the Asian men are not displayed in the same positive light as the women (a "typical" Amy Tan trait?), it is film that deserves to be seen again to have knowledge and appreciation of the culture and customs that exists within the Asian / Asian Pacific American communities.

(1993)
Directed by Oliver Stone


Cast: Haing S. Ngor, Bussaro Sanruck, Supak Pititam, Joan Chen, Thuan K. Nguyen, Hiep Thi Le, Lan Nguyen Calderon, Thuan Le, Dustin Nguyen, Khiem Thai, Liem Whatley, Michelle Vynh Le, Tuan Tran, Aron Starrat, Peter Duong, Michael Lee, Thanh Vo, George Roarke, Michael Paul Chan, Dave Cooper, Irene Ng, Thuc-Hanh Tran, Vu Anh Phan, Vivian Wu, Stephen Polk, Tran Huy, Timothy Carhart, Catherine Ai, Tommy Lee Jones, Somsak Hormsombat, Le Ly Hayslip, Huynh Cao Nguyen, Andy Reeder, Mai Le Ho, Mai Le, Long Nguyen, Mai Nguyen, Term Saefam, Hieu Van Vu
Not exactly known for his light touch, Stone beats his audience over the head with this bombastic true story of war and exile. What makes the movie worth watching is the chance of seeing the Vietnam War through the eyes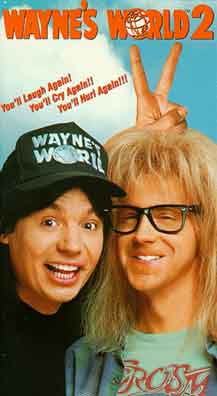 of a Vietnamese woman.
Instead of viewing the jungle--as usual--from the helicopters, we're looking up at the war machines. This simple change in perspective tells us more than a whole slew of Rambo movies ever could. Joan Chen's self-effacing performance is a standout.

(1993)
Directed by Stephen Surjik
Cast: Mike Myers, Dana Carvey, Lee Tergesen, Dan Bell, Tia Carrere, Richard Epper, Jennifer Miller, Duke Valenti, Benny Graham, Christopher Walken, Gavin Grazer, Googy Gress, Heather Locklear, Bob Odenkirk, Robert Smigel, Larry Sellers, Michael A. Nickles, Joe Liss, Bobby Slayton, George Foster, Paul Raczkowski, Rip Taylor, Ralph Brown, Frank DiLeo, Sydney Coberly, Kevin Pollak, Olivia d'Abo, Kim Basinger, James Hong, Chris Farley, Ron Litman, Matt Kenna, Sean Michael Guess, Drew Barrymore, Harry Shearer, Ted McGinley, Tim Meadows, Sammy Davis, Jr, Scott Coffey, Lance Edwards, Jay Leno, Al Hansen, Charlton Heston, Bob Larkin, Ed O'Neill, Steven Tyler, Tom Hamilton, Joey Kramer, Joe Perry, Brad Whitford
They're back! Those they're-so-goofy-you-have-to-love-'em cable television stars of America's most wanted pop rock-talk show: Wayne Campbell and Garth Algar! Wayne and Garth are finished with high school. But Wayne's struggling to find his place in the real world of full-fledged adults. In a way-cool dream, Wayne's escorted by a Native American to a meet the late, great Jim Morrison, who advises the troubled teen to put on an outdoor concert: "If you book them, they will come." So Wayne heeds the word and stages his very own Waynestock. If he can pull off the concert while protecting Cassandra, his super-babe-of-a-girlfriend, from evil record producer Bobby Cahn, he can prove, once and for all... he's worthy!
This film brings back the delicious Tia as the fabulous "Cassandra" and we see her father, the ever and always working Mr. James Hong. This is just part two of the testerone shots that we first saw in the first film. In this film, we get to see a scene between Mike Myers and James Hong that is a parady of a stereotypical fight in a Chinese movie (ala something from the film " Big Trouble in Little China!" (note: That film was so over the top in regards to "spoofing" Chinese martial art film that it actually was very funny and worthy to be seen!
site design by Asian American Artistry
for any questions regarding the content, please contact Asian American Artistry
Copyright © 1996-2003 - Asian American Artistry - All Rights Reserved.